Cremation Options
When choosing an animal cremation provider in East Texas, it's critical to feel confident in their philosophy as a business. We are dedicated to providing peace of mind and confidence for our clients. Our pet cremation procedure involves the following steps:
Pet is received into our care.
Pet is assigned an identification tag and logged into the crematory record.
Retort (cremation oven) is examined for cleanliness from all previous cremations.
Cremation cycle begins – this process takes approximately 4 hours at 1650 degrees.
Once cremation cycle is complete, cremains must cool and be carefully removed from the retort.
Cremains are allowed to cool naturally (overnight/a minimum of six hours) to allow for a complete/thorough removal from a cool retort. Cremains cannot be worked or processed hot.
Next, the cremains are processed to give them a uniform appearance and texture.
Finally, the cremains are packaged in a sealed heavy gauge bag which is then placed in the appropriate urn.
Urns are engraved or identified with labels indicating pet's name.
Cremains are packaged with certificate of cremation, rainbow bridge poem, and "forget me not" seeds.
Cremains are now ready to be taken home to be united with the pet's family.
This is a 3 – 5 day process at minimum. We neither rush nor skip steps. Any crematory that reports a quicker turn-around time has not instituted the proper measures to guarantee that each animal is returned to its correct owner and that the cremains have not been co-mingled with the cremains of another pet. Our existing volume of business and the lead-times associated with the cremation process make quicker turn-around times improbable.
We guarantee that you will receive your pet's cremains. We have been asked by some of our clients for "next day" service – we do not accommodate these requests as the cremation process and obligations to other clients we serve make this turn-around time impossible. Our reputation of over 120 years rests on our procedures and processes, allowing us to confidently guarantee that each pet is cremated with care and returned to his or her rightful owner – without compromise.
Memorial Cremation
Your pet is respectfully cremated, and the ashes are scattered by our staff.
20 lbs. & under -- $44.00
21-50 lbs. -- $54.00
51-80 lbs. -- $64.00
81-100 lbs. -- $84.00
101+ lbs. -- $94.00
Private Cremation
Your beloved pet is picked up by our staff and cremated privately. The ashes are returned to you in our Grapevine urn. You may upgrade to an urn of your choice if you choose.
20 lbs. & under -- $115.00
21-50 lbs. -- $135.00
51-80 lbs. -- $155.00
81-100 lbs. -- $175.00
101+ lbs. -- $200.00
Engraving - $25.00 per line ~ Paw Prints - $25.00 ~ Other custom designs/requests – priced on request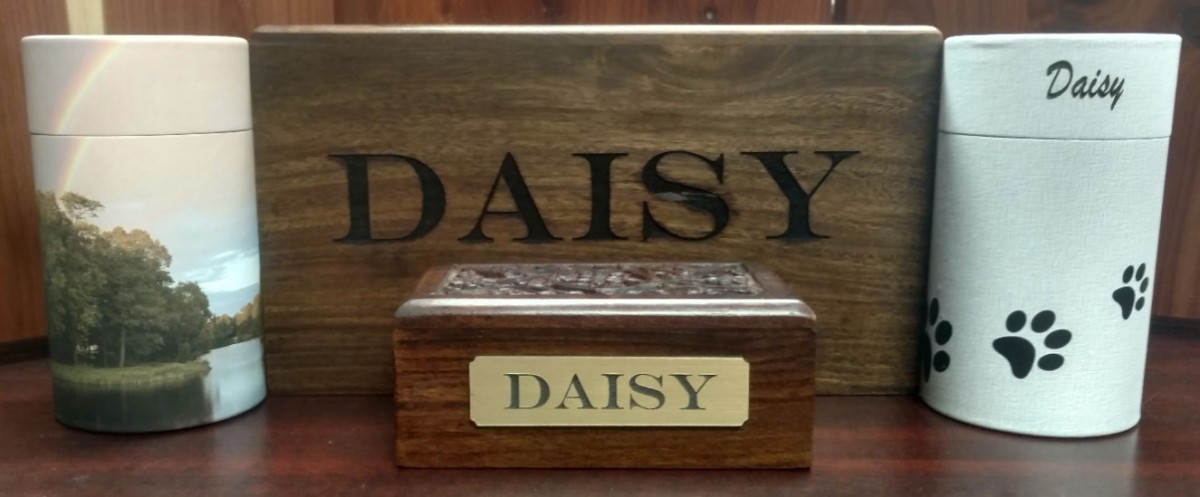 ---